On this page I'm showing places of interest that are not generally
as well known as the usual tourist spots. Judaculla rock, for
instance, is a treasure but will soon be gone because of neglect.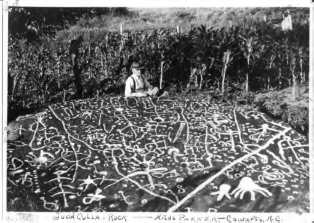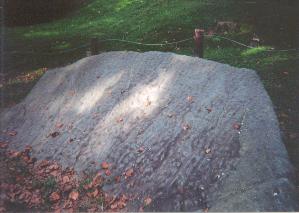 J
Judaculla Rock, Caney Fork Rd.
Cullowhee, NC, Large Boulder
Covered in Prehistoric Petroglyphs,
Thought to be 3,000-10,000 years old.
For more information:
ud

Juduculla Rock today, eroding
away, photo by Sarah Harrison

Thomas Wolfe's Grave, Riverside
Cemetery, Asheville, NC. Photo by Sarah
Harrison

Georgia Guide Stones, known as America's
Stonehenge, located 7 miles north of Elberton, GA on
hwy 77. Photo by Sarah Harrison.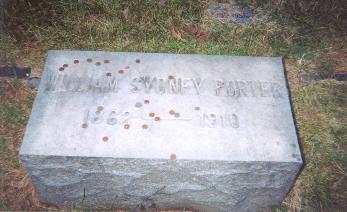 Grave of writer, O. Henry, Riverside
Cemetery, Asheville, NC. Local tradition is to
place coins, equaling $1.87, on the grave.
These are gathered up by cemetery staff and
donated to charity. Photo by Sarah Harrison.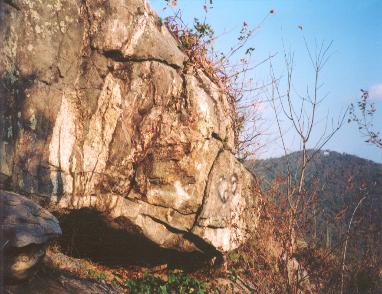 Paint Rock, Hot Springs, NC. Reported to once been
painted with Native American artwork. Beautiful place, I
recommend a visit there. In Hot Springs, NC, turn right at
the Paint Rock historical marker and drive six miles.
Photo by Sarah Harrison.

Buzzard's Rock, known to locals as The Devil's
Footprints, Elk Mountain Scenic Hwy., Asheville,
NC.Beautiful views. Photo by Sarah Harrison.

Andrews Geyser, Mill Creek Rd. Old Fort, NC
Photo by Sarah Harrison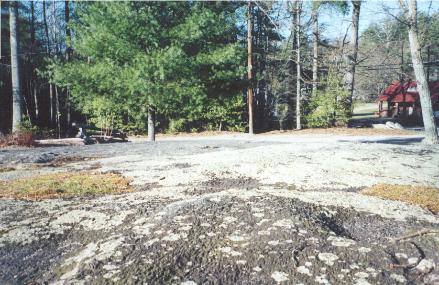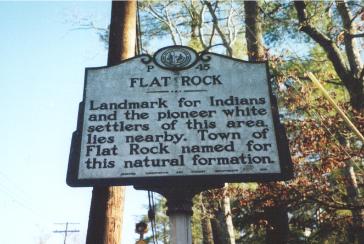 Wolfe's Angel is located in Oakdale
Cemetery, Hwy 64, Hendersonville, NC
Photos by Sarah Harrison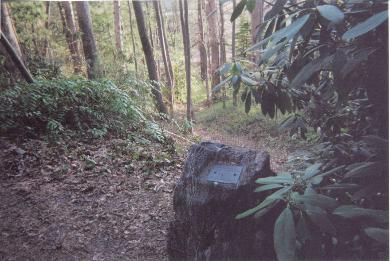 Flat Rock is said to have once been a sacred
place for the Native Americans. Located next
to the Flat Rock Playhouse in Flat Rock, NC
Photo by Sarah Harrison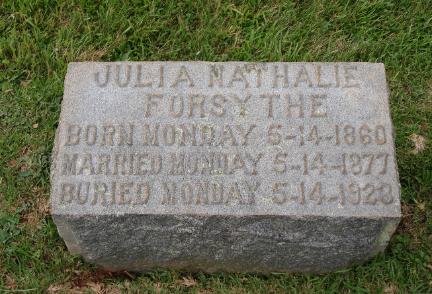 Stone marking the fortifications of the 1865 Civil War
Battle Of Asheville. It is located on a ridge inside the
Botanical Gardens near UNCA on Weaver Blvd.


Click here for more info on battle

A matter of coincidence? Julia Nathalie Forsythe
Born: Monday May 14th 1860
Married: Monday May 14th 1877
Buried: Monday May 14th 1923
Grave is located in Evergreen Gillespie Cemetery on Country
Club Rd. Brevard, NC. Photo by Sarah Harrison

This historical marker is located at the
intersection of 208 and 212 in Madison County.
Massacre site and graves are 8 miles east.
Photo by Sarah Harrison

Shelton Laurel Massacre

The Shelton Laurel Massacre, occurred on a bitterly cold day
in late January of 1863. The Confederate army sent a regiment
into the Unionist hotbed of Shelton Laurel, even today one of
the most isolated portions of Madison County. The
Confederate soldiers, almost all from Madison County
themselves, rounded up fifteen of their neighbors and took
them prisoner. It was hardly a force of fighting men they
captured. Many of the men were in their sixties, the youngest,
David Shelton, was thirteen, his brother fifteen. The prisoners
and all the members of the regiment, except their leader
Colonel Keith, believed the men and boys were to be taken to
a prison stockade in Tennessee. Inclement weather delayed
the march several days (long enough that two of the prisoners
escaped), but on the morning of January 18 the soldiers and
their captives began their trek westward. They had marched
only a few miles up the Knoxville Road when Colonial Keith
ordered the prisoners to line up. Soldiers drafted for the firing
squad at first refused to shoot, until Keith threatened to kill
them as well. The regiment was the North Carolina 64th.
The site of the massacre is near what is now Allegheny Rd.
The memorial is on a hill above hwy 212 and Allegheny Rd.