Big Cats And Other Mystery Animals in WNC

The Eastern Cougar is said to be extinct except for a small population in the
Everglades. However, there have been multiple sightings of cougars and
black panthers in WNC. The wildlife experts deny there are big cats in WNC.
They claim people are seeing house cats, bobcats, or yearling bears. But
there was a well documented case in McDowell County where a dog was
killed and the paw prints around the body was that of a large cat. Experts
verified that it was indeed cougar tracks. Still the wildlife people deny.

Black Panther in North Asheville
By Sarah Harrison

This is the story as told to me by M. who lives in North Asheville near the Grove Park Inn: I walked
out on my deck one night and heard a sound in a wild cherry tree nearby. I watched a huge cat
gracefully climb down the tree head first. It was black, had a huge head, and a long tail. As it
reached the ground, it turned, looked at me, and made a growling sound. As it disappeared into
the woods, I saw it's long tail. I reported it to a wildlife expert and he said that I had seen a
yearling bear. This creature was a cat, but no house cat. I have never seen a bear with a long tail.

My Experience Seeing A Black Panther
Reported By Shawn Bradford

Black Panther seen near Blue Ridge Parkway

2005- Man was driving up Beaverdam Rd, near Asheville, NC, toward the Blue Ridge
Parkway. He had reached the part where Beaverdam turns into a dirt road. He saw a
large black cat with a long tail run across the road in his headlights. He states the
animal was huge and could not have been anything but a panther.

On September 12,1993, a graduate student at the University of Tennessee, was driving along the
Clingman's Dome Road in Great Smoky Mountains National Park when he saw a mountain lion cross the
road about 200 yards in front of his vehicle. The incident occurred about two miles east of the Clingman's
Dome parking area.
This cougar sighting was not far from the location where a woman watched a "large mountain lion" cross
Newfound Gap Road at 1:45 p.m. on November 12, 1992. A dozen miles to the west, on the evening of
April 21, 1991, the director of a major North Carolina natural history museum observed a single cougar
making its way across the treeless expanse of Spence Field Bald.
All of these sightings were reported to Park Headquarters, where they were added to the species
observation log maintained by the Park. The log lists 29 Felis concolor sightings in the Park dating back
to 1938.
Cougar sightings in the Southern Appalachians are not restricted to the wilderness areas of the Great
Smoky Mountains National Park. On April 23, 1991 a visitor from England reported seeing a large cat
standing in the middle of the Blue Ridge Parkway at milepost 425 (near the Shining Rock Wilderness
Area). The animal was described as having a body length of 3 to 4 feet, with a tail about as long as the
body. The sighting was reported to Parkway officials, who receive an average of about five cougar
sightings per year in North Carolina, mostly centered around the Shining Rock and Craggy Gardens
areas. At least one Parkway cougar sighting, of a female and two kittens near Mt. Pisgah in 1977, was
made by a Parkway Naturalist.

Here is our experience seeing a black panther:
It was fall and it was about 9:45 p.m. We were almost on the Grove Park Inn's property, by the
country club. Eric, my ex-husband, was driving and I was in the passenger seat. We were
going the country club way with the big hill. When we were going by the sign, I saw this black
figure. It looked as if it was a big black dog. Since, it is a neighborhood, dogs do run loose.
But as I looked closer at it, I realized that it had the features of a cat. It's head was more
angular, its body was sleek, and its tail moved like a house cat. But it was later that we
realized that it was a panther. Because we went to the Western North Carolina Nature Center
and saw the cougars, and this cat looked like the same thing, but black. It was really neat,
seeing something like that, that other people don't see too much.

Asheville, 2007- A black panther was treed by a group of hunters. Here is the report:
"I ran up on a black panther one night. There were a few of us on a night hunt and
our dogs treed one in a tree and it tried to come out of the tree after us. If our dogs
were not there, I think it would have killed us".

Black Panther in Madison County
Report from Billy

My late grandmother, who grew up in rural Madison county, used to tell about a black panther that
would follow her and family to and from church as they walked down dirt roads, it got so bold that the
men folk used to carry rifles and weapons. It was said that the dogs wouldn't run it and they would just
howl... She was always a Godfearing woman and never lied... so who knows. This was in the 1920s in
the Doe Branch/Big Pine area of Madison county.

Black Panther Sighting in WNC

Cougar Sightings

A ferocious Black Panther
named Salem

May, 2007- Lawndale, NC, near Rutherfordton. Black panther seen in a yard killing and
carrying off a groundhog.

Rutherford County

New
mystery animal in Ashevile. There have been sightings of
unusual Gray Squirrels with yellow tails, scroll down for picture.

June 2007, a cougar sighting was reported in West Asheville by several
witnesses. Reported in the Citizen-Times. Again the experts denied it happened.

Very unusual squirrels have been sighted in Asheville. These nonconformist squirrels have a
normal gray body but have yellow tails. They have been spotted in North Asheville and Montford. If
you have spotted one or have a picture, let me know at admin@ashevilleparanormalsociety.com

Yellow Tailed Squirrels

Yellow tailed squirrel photographed in North Asheville.
Photos by Sarah Harrison

August 2007, a cougar sighting was reported in Mills River, NC on Dave Whitaker Rd.
Witness states he saw cougar in his headlights. He said cougar was 9 feet long from
nose to end of tail and weighted around 175 lbs. He said it was tan, tail was darker
brown, and had some white under the neck. He was so scared by the sighting that he
said from now on when he goes camping, he'll carry a gun and a bowie knife.

August 2007, Report by M. On August the 22, 2007 my wife and I were headed to Gatlinburg from just
outside of Maryville, Tennessee. We were on Montvale road just East of the Lookout Rock tower at
approximately 10:30 a.m. when a LARGE CAT crossed the road in front of us just before we went under
the Parkway. I immediately realized it was a cat from the way it walked across the road and thought for
an instant, it was the biggest cat I had ever seen outside of a Zoo. It didn't linger in the road but wasn't
in a big hurry either. It kinda of strolled across as if indifferent to us or the car. It wasn't until it was
gone that I realized it had a long thick tail, unlike ordinary house cats. It probably wieghted between
80-90 pounds and had solid dark gray hair. Not like what you would expect a normal Cougar or Panther
to look like. We didn't have a chance to get pictures and I'm no expert on Cougars or Panthers, but I do
know a CAT when I see one and this was NO ordinary sized Cat.

Cougar in Shining Rock Wilderness. Report from D.: Some friends and I were camping in The
Shining Rock Wilderness several years ago and a Park Ranger woke us up in the middle of
the night. He said we needed to be careful because there was a wounded cougar in the area.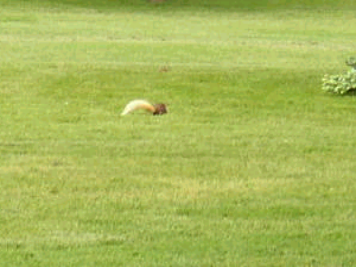 Yellow tailed squirrel, photo by Tom Holland

For more Big Cat sightings, scroll down for link to page 2.

For more Big Cat sightings, yellow tailed squirrels, and info
about the legendary Wampus Cat, click below for page 2

Page 1

More pics of Yellow
tailed squirrels on
page 2