Big Cats in WNC

Page 2

I have always heard of black panthers in our area, the old timers call them
"painters," but I have seen them with my own eyes in the remote regions of
the Linville Gorge area. It was the winter of 1994 and we (my friends and I)
were camping, about 2:00am we started hearing what sounded like a woman
screaming, and about 30 minutes later they appeared! Three large cats all
about the same size, about 4 feet in length (body not the tail), tail almost as
long as their body, sleek black fur, blunt face and their eyes did not reflect
light like a normal cat does. They stayed away from our camp fire but we
could see them pretty well with flashlights. I have informed our state
wildlife officers, they laughed and told me no such animal existed in our
area. But too many people in the Linville area have seen them.

Black Panthers in Linville Gorge
Report by J.

Picture of a possible cougar taken by a trail camera

I've shown the picture to several experts and they are divided as to
whether it's a deer or cougar. The picture is intriguing but unfortunately,
it's not proof of the existence of these big cats.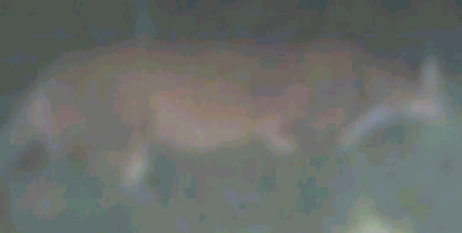 Enlargement of figure

If you wish to give your opinion, deer or cougar, drop us a line at
admin@ashevilleparanormalsociety.com

Many people who have viewed this picture seem to
think it's a deer. I've heard from deer hunters who
say it's not a deer but a cougar.

Look at what a man hit with his car on US-64 west of Cashiers in Jackson
County. The panther was still alive but unable to move, so a neighbor
called animal control and they came and put him down. A land owner had
seen this one a week before dragging off a 320 lb steer. An amateur
taxidermist is going to stuff him. This one weighed 200 lbs. Most mature
male panthers weigh 80 to 150 lbs.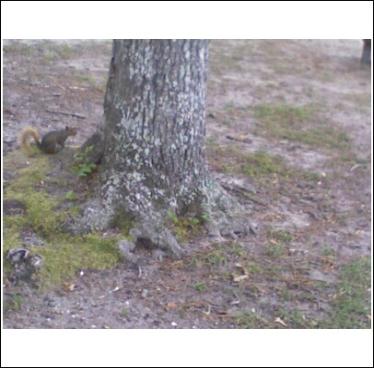 Some pictures of Yellow Tailed Squirrels taken by Tracie Rockefeller.

Black Panther Spotted On Blue Ridge Parkway
Report from MW

I spotted a Black Panther near Big Witch Gap on the Blue Ridge
Parkway, mile marker 461, late one evening last month. I reported
the sighting to the GSMNP ranger at the visitor center near
Cherokee, NC and was not taken seriously. The rangers suggested
I had mis-identified a bear. I passed within 20 feet of the cat and
the sighting lasted 10-15 seconds, there is no doubt in what I saw.

Cougar Report From A Police Officer

I have seen a mountain lion twice and investigated a third incident
where one came inside a man's house & used his couch as a scratching
post. A Park Ranger friend in the Great Smokies National Park has also
seen one at Balsam Campground off the Blue Ridge Parkway. Finally
there is a NPS memo with a red panther paw on it instructing the park
staff who see a mountain lion to call an 800 number which will put them
in contact with a park biologist who is tracking sightings.

Cougar seen in Asheville Campground

A cougar was recently spotted in the French Broad River
Campground. A woman was standing on the porch of one of
the cabins when the cougar walked through the yard. For
more info on French Broad River Campground

June 26, 2009- Yellow tailed squirrel spotted in Riverside Cemetery, Asheville, NC.

For more mystery animals